Elevate your Christmas holiday style with our remarkable Funny Party Jingle Balls Ugly Christmas Sweater and Christmas Ugly Sweater collection. Our personalized Xmas ugly sweaters go beyond tradition; they are an embodiment of your unique Christmas style. These humorous holiday sweaters boast a delightful variety of Christmas-themed patterns, each intricately crafted for the holiday season. From timeless Christmas motifs to completely original ugly Christmas sweater designs, you'll uncover the ideal one to leave an impression at any Christmas holiday event. Elevate your Christmas wardrobe with our distinctive Christmas ugly sweaters and stand out this Christmas season.
Your quest for the perfect Christmas sweater ends with the Funny Party Jingle Balls Ugly Christmas Sweater from Mugteeco. This exceptional Christmas sweater is your ultimate companion for Christmas gatherings and events ? an absolute attention-grabber that will light up your Christmas holiday!
About The Funny Party Jingle Balls Ugly Christmas Sweater:
Carefully crafted using state-of-the-art techniques, our sweater combines premium polyester and spandex, offering an ultra-soft and incredibly comfortable experience. Its design highlights a vibrant full-color print featuring the iconic Funny Ugly Sweater, making it a perfect addition to your Christmas wardrobe.
Whether you aim to ignite engaging conversations or express your distinctive holiday cheer, this sweater stands as the ultimate choice. Custom-tailored for the holiday season, it serves as an exceptional gift option for your dad, a thoughtful present for your mom, or a delightful gesture for friends on any occasion. Secure this charming holiday gift today.
Each piece is exclusively custom printed, cut, and sewn to perfection upon your order, ensuring the highest quality. Skillfully designed, the crewneck offers comfort and style throughout the day. Our utilization of advanced 3D printing technology ensures rich, vivid colors through dye-sublimation printing, guaranteeing color vibrancy and resistance to fading. Crafted from an acrylic wool blend fabric, it offers premium quality, ensuring comfort and a delightful feel when worn, making it an ideal choice for Christmas gatherings and beyond. Furthermore, its foldable and portable design allows for easy carrying, providing a comfortable and lightweight choice for everyday wear. Elevate your Christmas style with the Funny Party Jingle Balls Ugly Christmas Sweater.
Shipping Information for Our Christmas Ugly Sweater:
After successfully placing your order, our dedicated team will process and craft it exclusively for you within 4 ? 7 days. Your order will then be delivered to your doorstep within 7 ? 14 business days upon the completion of printing.
Production Time: 4-7 Business Days
Shipping Time: 7-14 Business Days
If you have any questions or concerns, please don't hesitate to reach out to us at [email protected].
Some Photos Of The Funny Party Jingle Balls Ugly Christmas Sweater: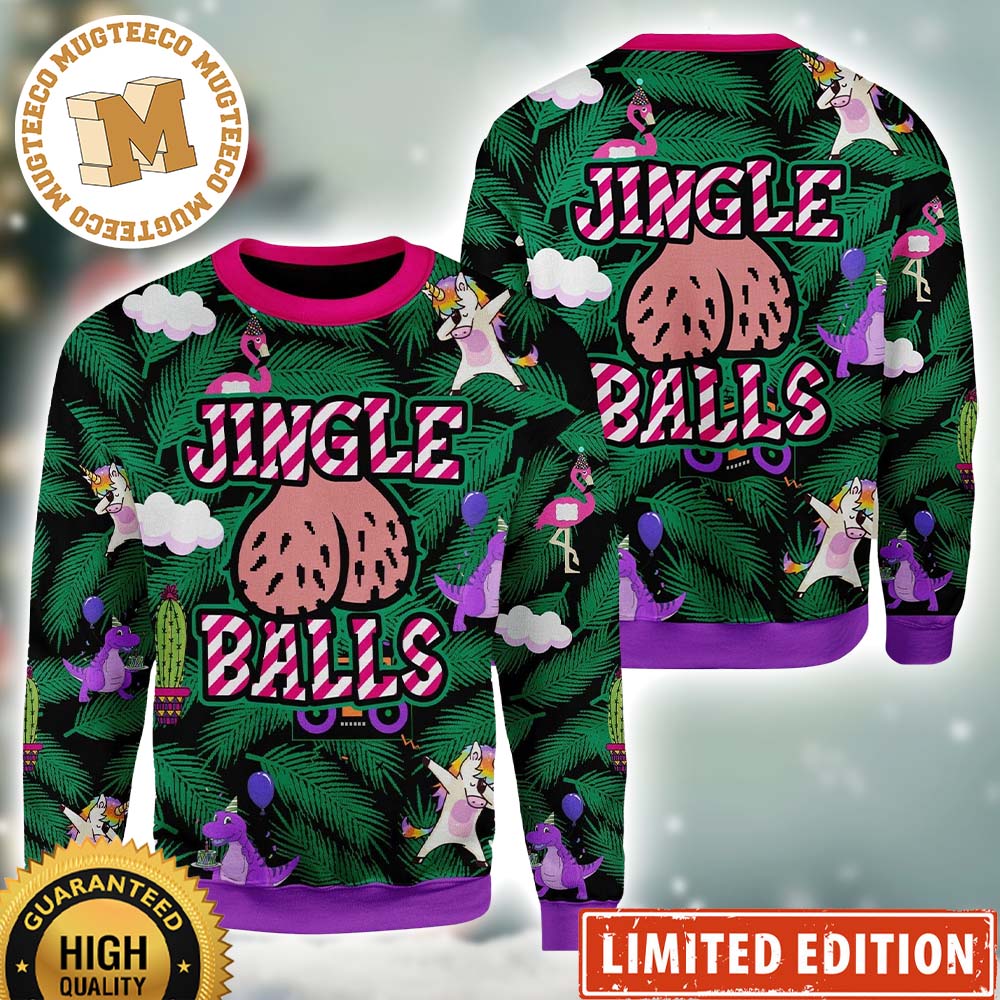 Scroll to the top now and click "Add to Cart" to embark on your favorite experience.