Cardi B Barbie Movie Style This Barbie Is A Icon Christmas Tree Decorations Ornament
Introducing Mugteeco's exquisite collection of Christmas ornaments! These stunning pieces are not just decorations; they are the essence of holiday magic. Whether you're searching for the perfect addition to your outdoor Christmas decorations, a special touch for your tree with Christmas tree decorations, or simply looking to elevate your entire array of Christmas decorations, our ornaments are here to enchant your festive season. Crafted with care and designed to delight, they're the perfect way to make your holiday decor truly shine. Explore our selection and discover the magic of Christmas captured in every ornament.
Cardi B Barbie Movie Style This Barbie Is A Icon Christmas Tree Decorations Ornament Information:
Elevate your tree's style with these Christmas ornament decorations – completely customizable to match your unique taste, whether it's hip, traditional, or funky. These custom-made ornaments are thoughtfully designed to become cherished heirlooms, passing down through generations. They're not only stylish but also durable, withstanding the curiosity of both cats and children.
Our ornaments boast cutting-edge UV printing techniques and high-quality ink, ensuring their durability and vibrant, eye-catching colors. Each ornament includes a hanging hole and a random string for easy decoration.
Thanks to the latest printing technology, our ornaments exhibit vivid and crisp colors that perfectly complement even your boldest design ideas. Measuring 2.87 by 2.87 inches, they're the ideal size to leave a lasting impression on your holiday decor.
Please keep in mind that manual measurements may result in slight variations in size. We appreciate your understanding!
Specifications:
Two sides feature dye-sublimation printing.
Crafted from high-quality ceramic.
White ceramic guarantees vibrant, full-color images that stand out.
Gold hanging cords are included for convenient decorating.
Proudly printed in the USA.
Look for similar items by categories: Barbie Movie Ornament, Cardi B Ornament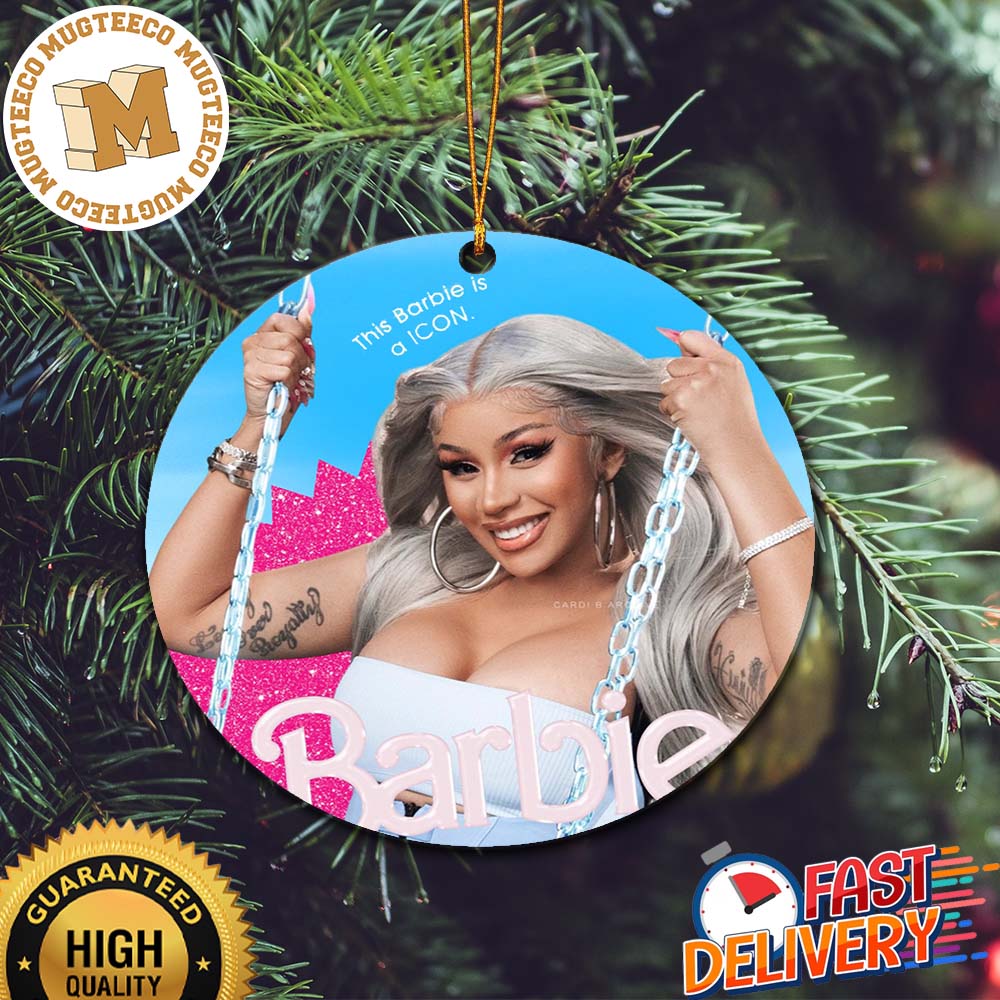 Don't wait! Scroll to the top now and click "Add to Cart" to start your favorite holiday tradition with our exquisite Christmas ornaments.